Welcome on the english page of the APH website.
Here you would be able to take knoledges  about the activities that the APH have been proposing in france since more than 30 years.
The  » Trophée des Petits Champions 2022″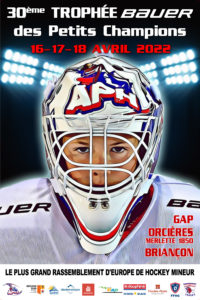 Like every years in april, Briançon, Gap and Orcières Merlette 1850 welcome the biggest under-age ice-hockey gathering in Europe: The Bauer Little Champions Tournament.
This event has the characteristic of being play at 3 against 3 in the third of the ice-rink and support in this way the actions, the technical play and give to the young ice-hockey-players the occasion to measure themselves face to face with many opponents come from Europe.
Download inscription
For more information go on the « Trophée Bauer des Petits Champions » rubric.